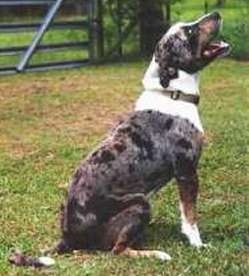 September 2, 1993 - February 9, 2007
Abney's Blue Bear born September 2, 1993, Son of Balentine's Shadow and Abney's Misty Blue, came to rest on February 9, 2007. Affectionately known as Bear, he was part of the foundation stock that exists today for Abney Catahoulas, and a few select outside breeders. He is the icon and logo of our kennel, and his copyrighted picture hangs above our fireplace.
Bear was probably what is considered the perfect dog, not because he sported the Classic Catahoula coloring and Glass eyes, but because his temperament was exemplary. Bear would never start a fight, however, if he was cornered, he would make his tormenters very sorry for their actions. He was happy just being able to run around, and would always return when called. He was the only dog I owned that I could call off a breeding. He was used on more than one occasion to test an in-heat female to determine if she was ready to accept a breeding. If she was not ready, he would ignore her, but, if she was, we could call him off and choose the male we needed.
He began his show career at the age of six months. He managed to place first in every Conformation Event offered by the National Association of Louisiana Catahoulas, including the Hip-Certified Class, but, was never granted a Championship. He went on to the American Catahoula Association where he won his Championship at six years of age on June 24, 2000, in Pell City, Alabama, after being shown in only five events. His show career was extended to the United Kennel Club, where he became a Champion after competing in only three events on October 26, 2002, in Denham Springs, Louisiana at the age of nine.
When he started showing signs of aging, we watched over him as if he were one of our children. When his hearing had all but left him, we just waited until he did what he was doing and returned to his run.
It was on a Wednesday morning that I noticed him having trouble getting up and moving. He had been on medication for his joints, but his movements had become very erratic. On Thursday afternoon, he could not rise to eat, so I sat in the kennel and fed him by hand. Arrangements were made for him for the next morning.
Bear may have left our kennel, but his ashes will remain on my mantle until the day I join him.