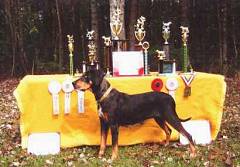 June 4, 1989 - September 26, 2001
On June 4, 1989, Blair's t/o Opal gave birth to her second litter of pups. The litter was sired by Mandeville's Navajo Joe. From this litter came the dogs known as Abney's Ladyhawke, and Abney's Mississippi Rebel.
Rebel ended up with a man from Mississippi named Billy Rish. He used Rebel for hog hunting, and achieved the Number Three ranking in the World Hog Dog Trials.
Ladyhawke was born a grey leopard, but turned into a mahogany colored dog with bright red, or burnt orange trim. These are the same colors that are seen in the Beauceron, except that Ladyhawke has glass eyes.
She was quite an active pup. First out of the house when called, she would take up her place at the feed pan, and no one had better try to move her. It was this strong outgoing attitude that made me take a hard look at this pup. She would cuddle up to you when you petted her, and she enjoyed having her butt scratched.
During the gestation period of this litter, I had become interested in the use of dogs for Search and Rescue. I had been reading quite a lot of material about Search and Rescue Dogs, and noticed that German Shepherds and Labrador Retrievers were the most popular dogs being used. There was a spattering of Golden Retrievers and other breeds, but no Catahoulas.
Knowing the capabilities of the Catahoula and its versatility, I decided to make the attempt at training Ladyhawke to be a Search and Rescue Dog. I found three people in my area who were trying to start a Dog Team, and I joined them in September, 1989, when Ladyhawke was 12 weeks old. We would go into the woods and train with the dogs for 2-3 hours each Saturday morning, and I would work with Ladyhawke at home in the evenings during the week.
At the age of ten months Ladyhawke was ready to be tested for certification in wilderness searches. I must say that I was nervous about the test. A track was laid by a volunteer, and it was left to age for 15 minutes before I began the search for this person. We were working in an old gravel pit. The area we were using was on the outskirts of the pit, where it was sandy and wooded. I had 20 minutes to locate the victim. The search started with Ladyhawke running at top speed along the top of the hills formed by the digging machines. She made a turn to the left, and I lost sight of her. As I approached the place where she had turned, I could see footprints in the sand at the bottom of one of the hills. I saw Ladyhawke in front of me again, and I called her. I took her down the hill and had her check the scent of the footprints. She turned and worked into an area and began circling. This was unusual for her and I couldn't make out what was happening. Needless to say, my time ran out and we failed the certification. I later learned that the footprints that I saw were not those of the victim. Ladyhawke was trying to take me to the victim. I decided that she had missed the track and called her back to check the footprints. This was the last time I second guessed my dog.
On her next attempt to certify 60 days later, she found her victim in 5 minutes. I let her work out her own problems, and made note of what she was doing when she had scent and when she did not. From that point on, Ladyhawke never failed another certification attempt.
Ladyhawke went on to certify in: Wilderness I, II, III, Water, Cadaver, Building, Articles, Urban, and Narcotic searches.
Ladyhawke's first search was in Biloxi, Ms., where a man had jumped off of a bridge and drowned. A deputy had witnessed the man jumping from the east side of the bridge at 1:30 PM. The divers could not locate the man's body, and we were called to lend assistance at 11:00 PM. We entered a boat and traveled around to the bridge. Ladyhawke was put to work at the spot where the man had jumped into the water. There was no alert given at this point, so we continued searching ahead. She gave me an alert at a location about 60 feet on the west side of the bridge and 25 feet from shore. The Captain in charge of the search said it was impossible for him to be in that location, since they had seen the man jump off of the east side of the bridge. I offered to run the dog again, and he agreed. We came back with the same answer. 60 feet west of the bridge and 25 feet from shore. The Captain said he would not put divers in that location because of the dangers of cables that ran under the bridge, and, besides that, he was not going to risk anyone on the word of a dog. After discussing the situation with his men, it was decided that a drag line would be used in the area of our alert. On the third pass, they caught the victim.
It was 2:00 AM when the man's body was brought to shore. The news media was going berserk and we couldn't find a quiet spot anywhere. It was an embarrassed and apologetic Captain who came to me in the front of TV cameras and said, "That's a pretty amazing dog".
Since then, Ladyhawke has recovered 13 drowned victims, rescued 8 lost and missing persons, two of which were runaway children, identified 2 weapons used in felonies, and identified the location where a murder victim's body had been hidden. In addition to these, she has assisted in 16 other cases. Together we have put on over 200 demonstrations for the public, private organizations, and law enforcement agencies.
Ladyhawke has never refused to do a job. No matter what the conditions or circumstances. There were times when I had my doubts about being in an area, but she never did, and I never doubted her.
Ladyhawke gained enough points to become a Combination Champion in Search and Rescue, and Conformation. We were honored with the "Excellence in Training Award" from Sigma Chemical Corporation. She was commissioned as a Reserve Deputy in January, 1996 and she was made a Girl Scout in November 1996.
In addition to all of her other achievements, she gave birth to four litters. There were 10, 14, 12, and 11 puppies respectively. After her last litter she developed a fungus that stripped her of her coat. After weeks of bathing and medicating, we now have a healthy, but aging, Ladyhawke.
On September 15, 1998, after 8 years of active service, Ladyhawke officially retired from the St. Tammany Parish Sheriff's Office, Search and Rescue Division. She will be allowed to keep her commission as a token of appreciation for the work that she has done. Since then, Lady has been pulled out of retirement on 3 occasions to lend assistance to Law Enforcement. The last one being Easter Sunday 1999 when two boys, ages 10 and 7, went exploring and lost their way. The boys went missing at 2:00 P.M., and reported to the Sheriff's Office at 5:30 P.M. We were dispatched and arrived at the home by 6:00 P.M. The two boys were located and returned to their home by 7:00 P.M.
It was my decision to retire Ladyhawke, allowing her to be just a dog and enjoy what time she has left. She deserves it. Of course, we still play hide and seek from time to time, but mostly, we just enjoy each others company, and the company of the other Catahoulas in my kennel.
After tearing an ACL in her rear leg, Ladyhawke began having trouble getting up from a lying position. This accompanied by a fight with Cancer and muscle atrophy, the decision was made to allow her to leave this world with a semblance of dignity. On September 26, 2001 Ladyhawke was put to rest. Her resting place is memorialized by a painted statue resembling her appearance.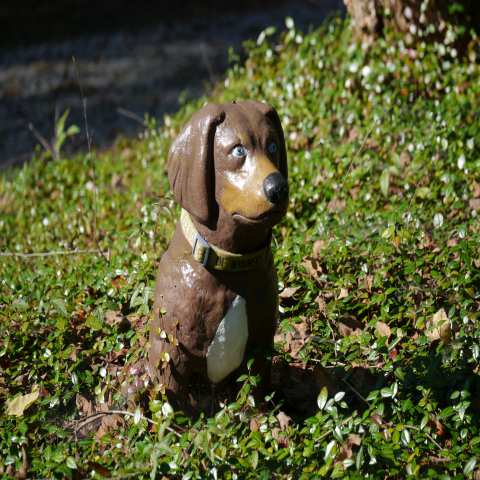 She is greatly missed.