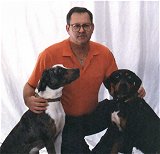 It is with profound sadness we announce that our founder, Don Abney, has succumbed to his battle with cancer on December 18, 2019.
Relatives and friends are invited to attend the funeral services at E.J. Fielding Funeral Home, 2260 W 21st Ave, Covington, LA 70433 on Monday, December 23, 2019 at 11:00 AM with visitation on Monday beginning at 9:00 AM. In lieu of flowers, memorial contributions in memory of Don may be made to Tunnels to Towers Foundation.
Don's wish was to see his Catahoula line continue, as well as his training operation. He has spent years training competent handlers in his techniques and they have amassed a world of knowledge. Don's wife Kathleen has been working with Don in his business and vows to continue on with the wonderful staff they have assembled.
Our community mourns the loss of a talented, compassionate, wonderful person but can take solace in the fact that he is reunited with his favorite pals, Bear and Ladyhawk, now playing their favorite game of hide and seek and enjoying each other's company again.
If you can't stand behind our troops,
feel free to stand in front of them!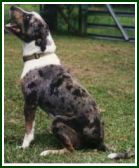 ABNEY CATAHOULAS
& CANINE TRAINING
Welcome to the Abney Catahoulas
A Fully licensed and insured facility
Inside the Abney Catahoulas' website you will find factual information pertaining to the origin of the Louisiana Catahoula Leopard Dog, and how the Catahoula has evolved into a truly versatile dog.
The history of the Catahoula is clouded by myth amidst fact. My book "The Complete Louisiana Catahoula Leopard Dog" clears up most of the confusion and myths while presenting the facts as they were written in the annals of historic books and documents. This Catahoula book provides the reader with a factual account as to the origin of the Catahoula, and provides the reader with a bibliography for reference reading. Although the Catahoula is not mentioned specifically in history books, an accounting of the breeds of dog and wolf are written in Louisiana History. When the events shaping the course of Louisiana history are placed in chronological order, the sequence demostrates the origin of the Catahoula. An previous version of the Louisiana Catahoula Leopard Dog book is being updated, with plans for release in the fall of 2009.
Our website will provide you with information gleaned from many years of experience and a variety of studies on canines, canine behavior, and, specifically, the Catahoula. We have listed the most frequently asked questions about the Catahoula as a ready reference guide. In addition to the Catahoula FAQ's, we have provided more in-depth information throughout the Abney Catahoula website. There is information on Issues which pertain to the Catahoula, and Facts affecting the existence and preservation of the Catahoula. We strive to produce the best Catahoula possible, and we feel privileged to have this opportunity to share our accumulated facts with you.
We bring to you our many years of Catahoula experience both in breeding and knowledge of the Catahoula and their traits, as well as information About Us, Our Catahoulas, and Our Catahoula Puppies. It will become obvious to the reader that we are not breeding the Louisiana Catahoula just for the sake of producing puppies, but that we do so to preserve and improve the Catahoula and its traits. We are pleased to own one of the oldest Louisiana Catahoula Bloodlines in our kennel. Unlike many other breeders, we only breed Catahoulas. We are not engaged in breeding Catahoula crosses or any other breeds of dog.
As a researcher, breeder and trainer, my involvement in genetic studies and various other research programs is to provide the truth about the Louisiana Catahoula's history, traits, abilities, health, and temperament, and not to perpetuate the myths.
There is factual information provided from experience, research studies, and insight into what you can expect if you have the privilege and pleasure of owning a Catahoula. It bears mentioning that the Catahoula is not the dog for everyone. Many potential owners believe their ability in the handling of larger breeds will enable them to control a Catahoula. It requires more than brute strength to be a Catahoula owner. It takes patience to endure their strong will, and the ability to present yourself as a fair leader.
So, grab yourself an iced tea, come on in, have a look around, and enjoy the many pages of information we have provided on the subject of the Louisiana Catahoula Leopard Dog. If, after reviewing our website, you should have further questions about the Catahoula, we are available to answer them for you. Simply submit your requests via this contact link.
If you prefer an older dog, or if you wish to provide a home for a Catahoula that is in need of a family, click here for information on Catahoula Rescue?



Don't forget to LIKE us on Facebook!