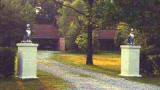 Abney Catahoulas is located approximately 60 miles North of New Orleans in beautiful Abita Springs, Louisiana. Our kennels have evolved from the two ten by ten dirt pens into a facility with 24 concrete runs and two out buildings. One building is used to store dog food and training equipment, while the other is used as an examination and grooming room. Our facility receives twice daily attention and enables us to provide the best of care for our Catahoulas. We have access to and utilize the expertise of five veterinarians that are familiar with Catahoulas, one of which is a breeder and owns an Abney Catahoula Champion. This provides us with the privilege of having a veterinarian available to us whenever needed. Each of them has worked to educate us in their various fields of expertise, resulting in our accumulation of thousands of hours of information and training on the care and well being of our animals, and those entrusted to our care.
In addition to these local professionals, we have contacts at various universities throughout the United States with veterinary professors in varying fields of expertise who are willing to help with any situation that may occur. We are not only dedicated to the breeding of quality Catahoulas, but to improving the breed's temperament without changing its natural, unique characteristics. Over many years of careful breeding, we have developed a Catahoula that is capable of working, hunting, showing, and/or being the family pet, while maintaining a good, even temperament. Abney Catahoulas have been developed to display the TIC of the breed.
T = Temperament + I = Intelligence + C = Conformation
Presenting a lecture on the history and care of Catahoulas to students at Magnolia Trace Elementary School.
This school has adopted the Catahoula as its mascot. Each student was afforded the opportunity to meet and pet the dogs, along with choosing one of the four dogs present to be included in their class picture.
By studying breed characteristics, researching the Catahoula's unique background history, working closely with a designed breeding program, and accepting the guidance of professionals in the field of genetic development, we continue to produce a Catahoula that has a good temperament, a loving nature, and the intelligence and ability to work in any field of endeavor. All of this is accomplished while maintaining the Catahoula's conformation breed standard. We are involved with testing our breeding stock, and assessing any Catahoula that enters into our breeding program. Although these tests are not an exact science, it does provide us with a tool by which to make certain breeding decisions. Add all of these things together, and you are assured of our effort to produce the best Catahoula possible.
Our Catahoulas have been used for Search and Rescue, Narcotics Detection, herding cattle, horses, and sheep, as well as hunting deer, moose, squirrel, raccoon, wild hogs, black bear, and mountain lion. As unbelievable as it may seem, Catahoulas have been trained to retrieve ducks and quail. They are active in the sports of agility, conformation, obedience, rally, and were recently introduced to Dock Diving. We are active in the Catahoula Community and strive to place our dogs in loving, caring homes. By producing Catahoulas with a stable disposition and willingness to please their owners, we are able to present a bloodline that will work, hunt, show, guard, or just be the family pet.
We are proud of our bloodlines, and strive to produce a dog that best fits the conformation standard while maintaining their working ability. We have produced some of the finest scenting dogs available. Dogs from our kennel are known for their scenting ability. From locating lost persons to tracking wounded animals, or pinpointing the location of a cadaver, our dogs do it all.
In addition to making presentations to many local schools, we appear at the Brec Bluebonnet Swamp Nature Center in Baton Rouge, LA. We also provide a program for the U.S. Wildlife Service.
Abney Catahoulas have been placed all over the United States, as well as many other countries. In the spring of 1998 we placed the first Catahoula in Amsterdam, Holland, and in the fall of 1998 we placed the first Catahoula in Helsinki, Finland.
Abney Catahoulas are registered with United Kennel Club and National Association of Louisiana Catahoulas
ABOUT TRAINING
I was afforded the opportunity at an early age to learn dog training. My father taught me the basics of training, but it was not until I was an adult that I really understood what he had taught me. I became a professional dog trainer in 1980, and have enjoyed my years of active involvement with many breeds in a wide variety of disciplines. Over the years I have owned various breeds of dogs and some mixed breeds, but the Catahoula has always been my passion.
Abney Canine Training has evolved into a full-scale training facility that offers a wide variety of training and behavior modification at reasonable prices. We care about your dogs as if they were our own. Please visit our training site, ABCANTRA (Abney Canine Training), for information on Behavior Modifications, Obedience, Conformation and Showmanship, Tracking, Blood Trailing, Search and Rescue (all facets), Arson and Narcotics Detection, and Training Tips for any breed.